Dziwna Wiosna wyruszy w pierwszą ogólnopolską trasę koncertową, promującą planowany na jesień drugi album zespołu. Pierwszy przystanek na trasie, to warszawski koncert, który odbędzie się w Klubie Stodoła 9 października 2022. W najbliższym czasie ogłoszone zostaną kolejne miasta.
Wydany w 2021 roku album zespołu Dziwna Wiosna, podbił serca słuchaczy tak bardzo, że chcą ich usłyszeć i zobaczyć na własne oczy na każdym festiwalu. Świetne, piękne i brudne piosenki, znakomite, poetyckie teksty, szczerość i naturalność zawsze znajdą odbiorców o wrażliwych sercach.
Takiej nuty dawno nie było w krajowym repertuarze, stąd tęsknota za nie-popem i nie-poprockiem, a czystym, czasem surowym brzmieniem z przejmującym przekazem.
Dziwna Wiosna to warszawskie trio grające brudne i piękne rockowe piosenki. Gitarzysta i wokalista Dawid Karpiuk, perkusista Łukasz Moskal (Brodka, Sister Wood i jeszcze pół Polski) i basista Wojtek Traczyk (Maria Peszek, Gaba Kulka i jeszcze sto pięćdziesiąt jazzowych składów, bo Wojtek najbardziej lubi jazz) zaczęli grać razem w 2018 roku jako Superhuman Like Brando.
Nagrali jedną płytę, która była tak dobra, że nikt o niej nie usłyszał. Wiosną 2020 roku, kiedy pandemia zamknęła miliardy ludzi w domach i pogrzebała stary świat, postanowili zacząć od nowa. Tak powstała Dziwna Wiosna.
Bilety znajdziecie pod tym adresem.
Tak prezentuje się terminarz nadchodzących koncertów: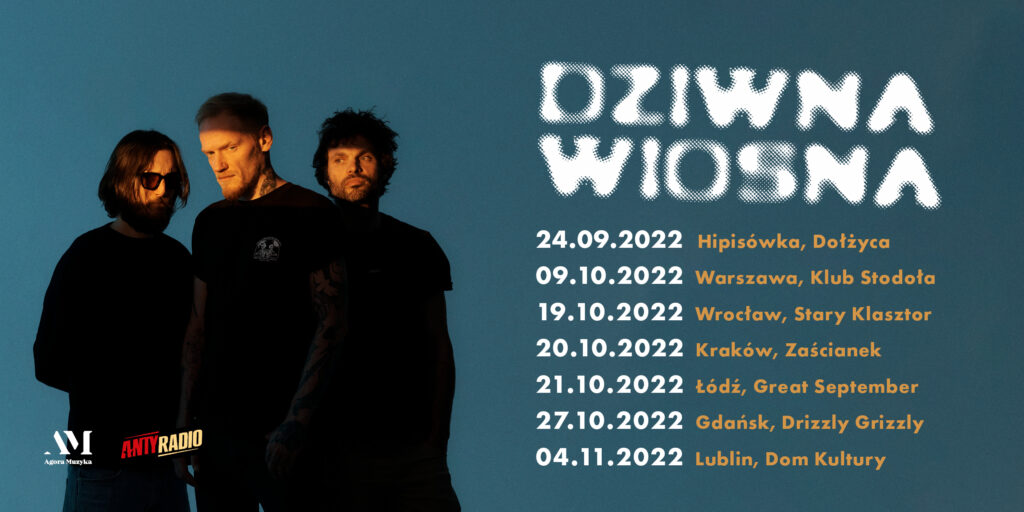 Polecamy: